Frontier 700 6 x 6 Scout – Special Order
It doesn't matter if it's your first time in the blind or your fiftieth season in the deer stand, there's an undeniable exhilaration that tags along every single time you head out on the hunt. And this is just the machine to take you and your anticipation out there.
Yes, the Frontier 700 6×6 Scout is your amphibious companion, stocked with everything you need. Sturdy VX 700 EFI V-Twin engine, Instant Torque Clutch (ITC) for a smooth journey, heavy-duty front rack, an always-handy 3,500 lb winch, TrueTimber® Prairie camo, not to mention that pure, unadulterated ARGO eagerness to begin the chase.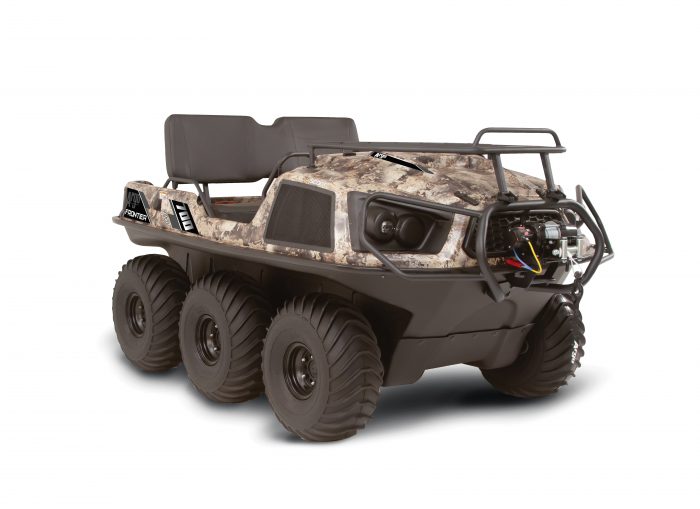 Frontier 700 6 x 6 Scout – Special Order specifications
| | |
| --- | --- |
| Engine | VX 700 |
| Cylinder | V-Twin |
| Fuel System | EFI |
| Cooling | Fan Cooled |
| Alternator Output (Max) | 16 Amps |
| Service Brakes | Hydraulic |
| Steering Brakes | Hydraulic |
| Auto chain lubrication | N/A |
| Brake cooling fan | Accessory |
| Transmission | ODG Classic W/APS |
| Drive Belt | Standard |
| Full Skid Plate | Standard |
| Brushguard | Standard |
| Winch | 3,500lb |
| Front Rack | Standard |
| Cargo Box | N/A |
| Bilge Pump | Standard |
| ROPS | N/A |
| Stretcher Frame | N/A |
| Rear Mesh | N/A |
| Roof | N/A |
| Power Dump Box | N/A |
| Load Capacity - Land | 490lb (222 kg) |
| Load Capacity - Water | 290lb (132 kg) |
| Towing Capacity | 1,200lb (544 kg) |
| Seating Capacity - Land | 4 |
| Seating Capacity - Water | 2 |
| Fuel Capacity | 8.5 Gal (32 L) |
| Speed - Land | 22 MPH (35 KM/H) |
| Speed - Water | 3 MPH (5 KM/H) |
| Weight | 1,050 lb (476 kg) |
| Length (includes winch when standard) | 103 inches (2,616 mm) |
| Width | 58 inches (1,473 mm) |
| Height | 51 inches (1,295 mm) |
| Axle bearing extensions | Standard |
| Entry step | Accessory |
| Tyres | Argo XT115 24X10-8 |
| Wheel | Steel Offset |
| Ground Pressure (18" rubber tracks) | 0.73 PSI (5 KPA) |
| Ground Clearance (tyres) | 10 inches (254 mm) |
| Ground Clearance (tracks) | 11 inches (279 mm) |
| Warranty | 1 year |
| Colours | Truetimber Prairie Camo |