Aurora 950 – Special Order
This big boy is primed and ready for any quest. The amphibious Aurora 8×8 Series is a premium platform for ARGO, making it the most advanced and powerful XTV available. The massive VX 950 V-Twin engine options give you the high-performance power to explore any obstacle-laden territory.
The Instant Torque Clutch (ITC) technology complements the Admiral transmission with ARGO Progressive Steering for a smooth, comfortable ride. Whatever the world throws in front of you – marshes, streams, hills, logs, ranges or ruts – this one is fully seasoned and raring to seek out some adventure.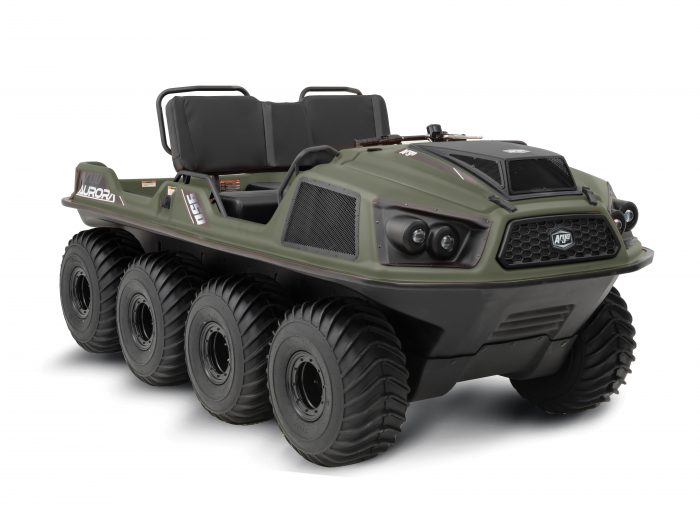 Aurora 950 – Special Order specifications
| | |
| --- | --- |
| Engine | VX 950 |
| Cylinder | V-Twin |
| Fuel System | EFI |
| Cooling | Fan Cooled |
| Alternator Output (Max) | 50 Amps |
| Service Brakes | Hydraulic |
| Steering Brakes | Hydraulic |
| Auto chain lubrication | Accessory |
| Brake cooling fan | Accessory |
| Transmission | ODG Classic W/APS |
| Drive Belt | Standard |
| Full Skid Plate | Standard |
| Brushguard | Accessory |
| Winch | Accessory |
| Front Rack | Accessory |
| Cargo Box | Accessory |
| Bilge Pump | Standard |
| ROPS | N/A |
| Stretcher Frame | Accessory |
| Rear Mesh | N/A |
| Roof | N/A |
| Power Dump Box | N/A |
| Load Capacity - Land | 1,080 lb (490 kg) |
| Load Capacity - Water | 880 lb (400 kg) |
| Towing Capacity | 1,800 lb (816 kg) |
| Seating Capacity - Land | 6 |
| Seating Capacity - Water | 4 |
| Fuel Capacity | 8.5 Gal (32 L) |
| Speed - Land | 25 MPH (40 KM/H) |
| Speed - Water | 3 MPH (5 KM/H) |
| Weight | 1,470 lb (668 kg) |
| Length (includes winch when standard) | 119 inches (3,023 mm) |
| Width | 60 inches (1,524 mm) |
| Height | 51 inches (1,295 mm) |
| Axle bearing extensions | Standard |
| Entry step | Accessory |
| Tyres | ARGO XT117 25X12-9 |
| Wheel | Steel Airlock |
| Ground Pressure (18" rubber tracks) | 0.88 PSI (6.1 KPA) |
| Ground Clearance (tyres) | 10 inches (254 mm) |
| Ground Clearance (tracks) | 11 inches (279 mm) |
| Warranty | 1 Year |
| Colours | Green, Black & Orange |