Aurora 850 Responder – Special Order
Trouble doesn't contain itself to convenient locations. That's why we're proud to put the might of ARGO go-anywhere engineering behind the Aurora 850 Responder 8×8 XTV. These amphibious rescue machines are designed to get assistance to some of the world's most challenging terrains.
The Aurora 850 Responder comes with our reliable and strong VX 850 V-Twin engine, providing power with purpose. They also feature big 25″ tyres and enough seating for all the helping hands required. And we equipped them with stretcher mounts so you can be fully prepared. When the world gets nasty and trouble comes calling, answer with ARGO.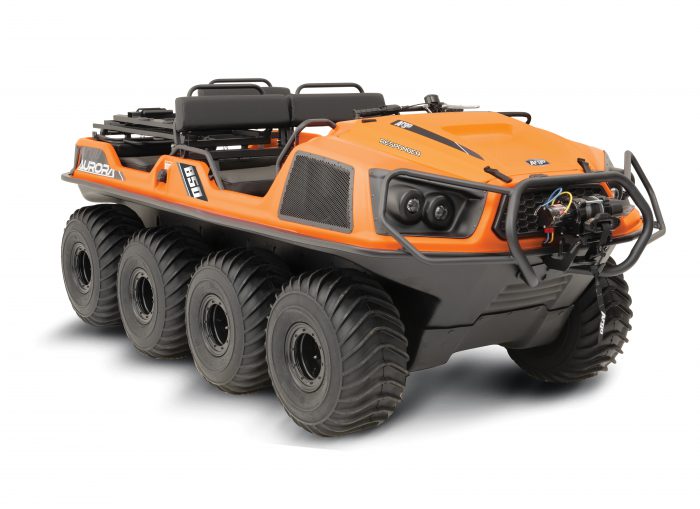 Aurora 850 Responder – Special Order specifications
| | |
| --- | --- |
| Engine | LX 850 |
| Cylinder | V-Twin |
| Fuel System | Carburetor |
| Cooling | Fan Cooled |
| Alternator Output (Max) | 20 Amps |
| Service Brakes | Hydraulic |
| Steering Brakes | Hydraulic |
| Auto chain lubrication | Accessory |
| Brake cooling fan | Accessory |
| Transmission | ODG Classic W/APS |
| Drive Belt | Standard |
| Full Skid Plate | Standard |
| Brushguard | Standard |
| Winch | 3,500lb |
| Front Rack | Accessory |
| Cargo Box | N/A |
| Bilge Pump | Standard |
| ROPS | N/A |
| Stretcher Frame | Standard |
| Rear Mesh | N/A |
| Roof | N/A |
| Power Dump Box | N/A |
| Load Capacity - Land | 960 lb (395 kg) |
| Load Capacity - Water | 760 lb (304 kg) |
| Towing Capacity | 1,800 lb (816 kg) |
| Seating Capacity - Land | 4 |
| Seating Capacity - Water | 4 |
| Fuel Capacity | 8.5 Gal (32 L) |
| Speed - Land | 25 MPH (40 KM/H) |
| Speed - Water | 3 MPH (5 KM/H) |
| Weight | 1,590 lb (708 kg) |
| Length (includes winch when standard) | 126 inches (3,200 mm) |
| Width | 60 inches (1,524 mm) |
| Height | 51 inches (1,295 mm) |
| Axle bearing extensions | Standard |
| Entry step | Accessory |
| Tyres | ARGO XT117 25X12-9 |
| Wheel | Steel Airlock |
| Ground Pressure (18" rubber tracks) | 0.88 PSI (6.1 KPA) |
| Ground Clearance (tyres) | 10 inches (254 mm) |
| Ground Clearance (tracks) | 11 inches (279 mm) |
| Warranty | 1 Year |
| Colours | Red & Orange |